Cyber Security FREE Executive Seminar:
"

4

Critical Cyber Security Protections EVERY Business Must Have In Place NOW To Avoid Ransomware, Cyber-Attacks, Bank Fraud and Data-Breach Penalties"
Event Details:
Date : Friday, Jan 17, 2020
Session Time: 11:30 a.m. – 1:30 p.m.
Where : 5934 Priestly Dr.
Carlsbad, CA 92008
United States
During This Seminar You'll Discover:
The scary risks of mobile and cloud computing – and 4 critical policies, procedures and protections EVERY business must have in place NOW to protect themselves; overlook even one and you're exposing yourself to security breaches, damaging and expensive litigation, employment lawsuits and having confidential company information exposed to competitors, hackers and cyber criminals.
The #1 security threat to your business that anti-virus, firewalls and other security protocols are defenseless to.
A SHOCKING truth about bank fraud that most businesses don't know about that could (literally) wipe out your bank account.
Why firewalls and anti-virus software give you a false sense of security – and what it REALLY takes to protect your organization against new threats and today's sophisticated cybercrime rings.
Who Should Attend?
C-Level executives and managers who are concerned about: lost or stolen devices, privacy of confidential information, employment litigation introduced when employees use personal devices to access company data and State and Federal laws that carry heavy fines for lost or stolen data. This is of particular importance for those organizations that handle ANY sensitive data such as credit card and financial information, medical records (or serve clients who have medical records) or who simply want to avoid having their bank account wiped out due to a cyber-attack.
"They are fixers and problem solvers!"
I want to take a moment of your time to illustrate how great the company Fusion Factor is..!! We have been using Fusion Factor for IT Services, both problem solving and taking us to the next level for more than 3 years. Fusion Factor is adaptable, they have been able to extinguish of every flame of problem we have had and I would recommend them without reservation. If you have a problem or any issue, call them because they are fixers and problem-solvers.
Ted Owen
President & CEO
Carlsbad Chamber of Commerce
"Helping us make sure we are comfortable"
I'm Rick Donahoo working with Allgire General Contractors. We have been in Carlsbad for over 25 years. As we have grown with the construction industry, we have learned to specialize in many facets: defect litigation, construction of affordable houses. Through that process we have learned that our technical support is very critical to our success. We came across Fusion Factor in 2006; following that every need we had has is been met. We have had experiences where we have been out of power is San Diego. Fusion Factor is there to support us. Within moments they have been calling us checking on us here at midnight to make sure we are solid with our servers. We are up-to-date in all the latest technology. I can go to work and I don't have to worry about my files, my e-mails, my photos, my documentations because they are all going to be backed up by Fusion Factor. Whenever I can't find my lost files, I make a call to Fusion Factor. They have it for me within minutes. During the night, at 2:00 in the morning I get an e-mail "there is your stuff, it's there for you".
Rick Donahoo
Project Manager
Allgire General Contractors
Register By Completing The Form Below:
Important! We hate spam as much (or more!) than you and promise to NEVER rent, share, or abuse your e-mail address and contact information in any way.
Meet Your Presenter: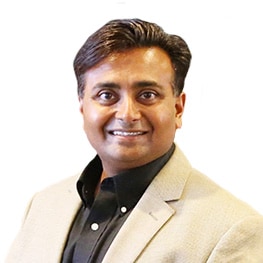 My name is Bhavin Mehta President & CEO of Fusion Factor Corporation. I am enthusiastic and passionate about helping small and medium businesses to eliminate all the hassle, waste and headaches of all things technology in their office. Fusion Factor Corporation is dedicated to taking over the support and maintenance of businesses computer networks.