"Who Wants A Brand-New Apple iPad Mini…
Absolutely FREE?"
Refer a friend to Fusion Factor Corporation this Holiday Season
For a chance to win a NEW Apple iPad Mini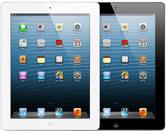 Rules of the Contest:
Send us a referral (for a business that has 3 – 250 Pcs) that schedules an appointment for information about our services and get a $25 Amazon gift card!
Note: The Company must be aware that you have referred them.
If that referral becomes a contract client (and spends $1,000 or more), you get another $50 in cash! We will give your referral a FREE Network Security Check and Tune UP (normally $297) and enter you in our contest for NEW Apple iPad Mini.
For each referral you provide, your name will be entered into the drawing for a chance to win a NEW Apple iPad Mini.
If you send us the most referrals during this quarter, you will WIN the iPad Mini. In case of a tie, whoever sends the referrals first wins.
Note: ANYONE can enter (except our employees!).
Do you know someone in need of a technology company that goes above and beyond to provide outstanding service? Or maybe they already have a support company but they could use some extra help with a special project. Whatever the circumstance, we want to meet with companies in Southern California that need our resources.
Now that the rules are clear, here is how you submit a referral:
3 Ways to Send Us Your Referrals:

And don't forget, for every referral who makes an appointment with us, you get a $25 Amazon Gift Card!
And if they sign a contract, you get ANOTHER $50 in Cash!
Important note: We guarantee no high-pressure sales tactics and will treat your referrals with "kid gloves."
Here Is What The People You Refer Will Receive For FREE:
A Network Security Check and Tune UP (Normally $297):
Scan for hidden spyware, viruses, and malware.
Review of security and firewall settings
Confirmation that all critical security patches and updates are installed and working properly.
Review system logs for errors, hidden problems, or unexpected entries that can spell t-r-o-u-b-l-e.
Overall performance audit to maximize speed, performance, and reliability.
Thorough testing of

backups

to make sure they are protected from major data loss.
Important: Your referrals are not required to say yes to this audit or to purchase anything to count toward the total number of referrals you send us.
So let us know who you have in mind and have them get in touch with us!